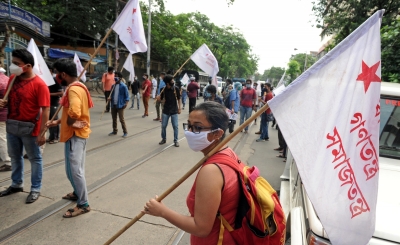 Kolkata, Feb 3 (IANS) The CPI(M)'s student wing, Students Federation of India (SFI) will be screening the controversial BBC documentary in two prime institutes in Kolkata, namely Calcutta University and NRS Medical College & Hospital on Friday.
It is learnt that formal permission has been sought by the students' wing from the authorities of both these institutes to screen BBC's 'India: The Modi Question'. However, there had been no reply on this count and hence the students have decided to go ahead with the screening.
Earlier, the SFI units of Calcutta Medical College & Hospital, Jadavpur University, Presidency University and Aliah University conducted the screening of the controversial documentary at their respective campuses.
There were controversies over the screening of the documentary within the Presidency University campus on January 27, as the event was interrupted following the disconnection of power services which prompted the students to stage protests within the campus.
Alleging an understanding between the Trinamool Congress and BJP in the state, the students also claimed that the power services were deliberately disrupted by the university authorities following an instruction from the state government.
The SFI arranged the re-screening of the documentary within the campus again on January 31 and that time the event was conducted without any interruption.
The screening process at the Calcutta Medical College & Hospital, Jadavpur University and Aliah University was peaceful.
–IANS
src/dpb